Bands
I am currently playing in five projects in the Portland/Vancouver area. 

In addition to the live acts, I occasionally work as a sessions drummer in the Portland area and continue to study the art of drumming with "Jungle Jim". 
______________________________________________________________
---
PAST BANDS
FARCHILD


Farchild was an alt. rock/experimental Seattle group put together by the very talented musician/vocalist/athlete Jane Collymore. Jane wrote/arranged all of the music and I was fortunate to be behind the kit for many of her live performances. Two memorable shows, which had amazing energy in the crowd and on the stage, were at Jazzbones in Tacoma and Showbox Market in Seattle.
Boogiesquid
Boogiesquid is a hard rock band with endless jams fusing a variety of styles resulting in an electrifying live show. I mix all of the chops I learned in drum corp with lots of fills and occasional solos on top of a hard hitting beat. This band plays like every show is their last one.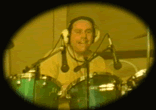 After seeing BoogieSquid you feel like you have been zapped by the infectious Squid. We all are involved in the creation of songs and lyrics that are mostly driven by emotion and raw energy (Not to mention the many comical life experiences that have demented our minds).
Epigene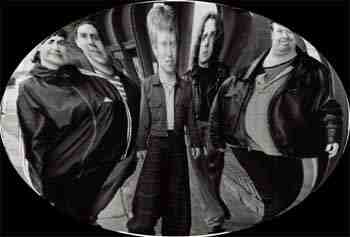 Epigene has a familiar pop sound with intricate dynamics. The songs are very complex and demand close attention to timing and changes. The music has a progressive pop sound similar to XTC and 70's Genesis. I enjoy the challenges recording and performing this music brings me. For example, recording our debut cd required me to use a click track, something I have not use very often in recording. Also, I was able to incorporate brushes, a rain stick and other percussion tools. Epigene's music and lyrics are written by Seattle native, Sean Bigler.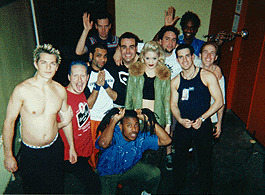 Baby Snufkin
This band has got to be the hardest working band in the world. I toured Europe as well as the East and West coast twice with these guys and this is only a fraction of their adventures on the road. The songwriter, Scrote, creates a punkish latin sound that makes you feel like your on a Carnival Cruise ship with Jello Biafra as your captain.
BudderBall


Incredible energy with many complexities. I came about these guys through the 4:20 family in SF. I recorded about 5 tracks, yet to be released,with these maniacs in the SFSU studio. I also enjoyed playing live with these guys because of the high energy and musicianship.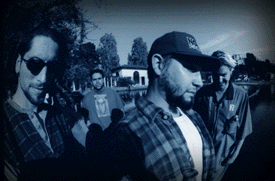 Puzzlefish


The father of the 4:20 records family, Puzzlefish has been spreading its wild oats throughout the Bay since 1990. A High Times Favorite… They began fusing rock, punk, metal, rap, and electronica before Limp Bizkit started puberty. I met them when answering a musicians wanted ad in Drum! Magazine. I had fun playing live with these guys throughout the West coast. We also played a music fest in Vancouver and received some recognition for the album Bouncenplod.
Crack Burger


A drunken barrage of noise made Crack Burger an unforgettable swim through the Sea of Decadence. All night jams, blind recordings, and stumbling into SF party appearances is the history of Crack Burger. . Metal guitar riffs with lots of drums about sums it up.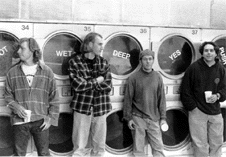 Salamander
Salamander evolved in the harsh environment of Orange County. There I, a slimmy egg, met other wet eggs, Bert and Edgar, and hatched a new sound of music that mixed polka, jazz, rock, funk, folk, and pure energy. We then slithered our way to the Bay and burrowed in for a strong showing in the San Francisco scene. Highlights in the City were winning the Bay Guardian Best Band contest, playing the Filmore with the Funky Meters, The Great American Music Hall with No Doubt, the 1996 Bill Graham SFNYE bash, The Bay to Breakers, James Gabber's KOFY Show, and BayTV's Morning Show. We also managed to release a 14 song CD thanks to Rick Starbuck and Tom Dumont.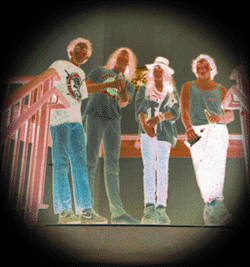 Gangwasi


We formed in 1988 when I first moved to Irvine California to recieve "real" college education. It first started out as an atonal/avante garde project with Guitarist Greg Marx and myself. Soon we aqcuired bassist John Dumont and Peter West and evolved into a metal band with an eclectic taste that included ska, reggae, jazz, punk, and industrial noise. We played many clubs and beach parties in the Orange County area creating a mass following of die hard fans. Highlight performances were the Roadhouse (Costa Mesa), The Doheney Saloon (Doheney Beach), Chex (Anaheim), with our finaly show at the Infamous Doll Hut (Anaheim). Ten years later Greg and I( amazingly still alive) met up in Seattle, WA and reformed as BoogieSquid.
Shakedown


There is nothing like being in a hippy band in a college town, especially if that town is SLO-town. A friend and I answered an ad in the local rag for musicians. In no time we had a solid hippy rock band that attracted large groups of colorful people to come to our shows under the influence. I loved the creative parties and gatherings we played. One of these was the Lord Buckley Gathering in the Las Plumas National forest. We mostly played 60's/70's rock like The Grateful Dead and Santana. However, what made this band special was that the lead guitarist/vocalist had a direct line into Jerry's inner realm.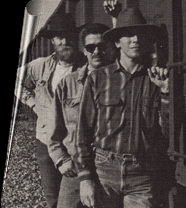 The Guy Budd Band
Another band in SLO with an incredible guitarist. This guitarist however connected more with Jimi and Stevie Ray. I played with them for about a year during my drunk education at Cuesta College. If your ever in San Luis Obispo check the club listing for Guy Budd. He is an icon in this town. You go to SLO to see the Madonna Inn, eat at The Apple Farm, get pissed at Bulls Tavern, and experience The Guy Budd Band.
Ken's Combo


This band was a mix of jazz and rock influenced musicians that spawned from Highschool relationships. We played a combination of originals and modern jazz covers. We performed mostly at different San Jose schools. It gave me a great opportunity to perform independently from the formal school bands.
Crystal Balls


Formerly known as Echo1,Crystal Balls received recognition in 1984 for winning the Battle of the Bands in San Jose, CA. We were a jazz/fusion ala Level 42 sound. Performing in this band allowed me to improv, jam and be creative. Highlight performances were in San Fransico Hyatt Regency Ballroom, Garden City Card Club and The Pinehurst Inn.

Share on Facebook